---

Please note that the legal information contained herein applies to Massachusetts only.
How we work together
Can we meet first?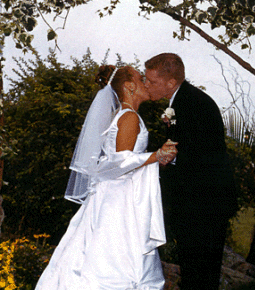 I prefer to meet with you both so that we're sure we're a good match. If you are marrying in Massachusetts but live elsewhere, we can meet by telephone and arrange to get together at a later date when you'll be in the area.
We'll talk about the basic vision of your wedding: location, time of day, style, size etc. You'll probably have a lot of questions. As we get to know each other, I tune in to your preferences and the tone of the occasion. If you like, we can talk through a basic ceremony format and see where your ideas might fit in or how we might adjust it. You'll receive suggestions for your particular needs as well as a folder with examples and resources to help you.
There is no charge or obligation for this meeting.
Do you marry couples of the same sex?
Yes! In my experience, the process, elements and language of the celebration are essentially the same as for heterosexual couples. I'll work with you in the same personal, joyful way to create a unique and inspiring ceremony.
What happens after our first meeting?
From this point, we'll do whatever works for you. Often I start writing your ceremony soon after our discussion, and you might send me passages, readings, phrases, stories, vows or other content, which I weave into the ceremony. Couples provide input to varying degrees so there's no need to feel overwhelmed, but I do like to use many of your words and thoughts. I'll work with what fits and flows and send you a draft for your approval. We can work by phone, fax or e-mail or might meet again to fine-tune, if you wish.
Even with all the choices available, we still want a relaxed and flowing ceremony. I'll help you focus on the essentials.
How can we include our family and friends in the ceremony?
In addition to being honor attendants and/or part of the processional, there are many opportunities for your loved ones to participate: they may offer readings, prayers, or brief stories; light candles; carry ritual objects; pour wine or water. There are possibilities within the ceremony as well as peripherally (helping with programs, decoration, etc.) and some are appropriate for children. I can offer you many suggestions based on your needs and the style and location of the event.
Ceremony tip: If you love the symbolism of the unity candle ritual but your ceremony is outdoors, consider doing a similar ritual with wine, water, flowers or sand.
For your non-English speaking guests, we might incorporate a native or ancestral language, even if only a phrase or two: the word "welcome," or a brief blessing, or your vows. I would be happy to learn a few words for your guests. Or you may translate the ceremony into any language for a program.
Do we need a rehearsal?
Wedding rehearsal is for practicing the processional and recessional, and sometimes for rituals within the ceremony. Often rehearsal isn't absolutely necessary, so unless you have many honor attendants and/or the ceremony is complex, you may wish to do without it. Or, since you will already have the wedding script, you may do a walk-through or talk-through on your own. If you have a wedding planner or if there is an event coordinator at the site, she or he will often oversee the rehearsal. Since there is an additional fee to have me there, we'll discuss what you're comfortable with as we get closer to The Day.
Rehearsal tip: Begin by positioning your wedding party where you want them "at the altar." Then line them up at the entrance (whether singly or in pairs) and have them walk to their spots.
What if we "just want to get married?"
Maybe all you desire for your ceremony is that a responsible individual show up on time and perform a brief, tasteful, basic service without rehearsal. I have done this many times because I respect your choice of exactly the ceremony style that suits you. The fee for a simple pre-written ceremony is, of course, less than a more customized one.
The Legal Bits
The following apply to Massachusetts only. Call your town clerk's office to be certain of the latest requirements and if you have questions that are not answered here.
How do we get our marriage license?
You may obtain your marriage license from any town or city clerk in the Commonwealth. Each town or city sets their own license fee.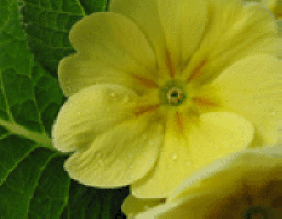 Blood tests are no longer required in Massachusetts but there is still a three-day waiting period from the day you apply to the day you pick up your license.
You must both be present to apply. You will need to bring photo identification but do not need proof of divorce; just be certain that you have a final divorce decree. On licenses now issued in Massachusetts, boxes on the bottom of each side are checked "Male" or "Female" to designate the gender of each party.
The same piece of paper that is your license to marry becomes your marriage certificate once I have filled in the required section and mailed it back to the clerk's office. The marriage license is valid for 60 days.
FYI: Massachusetts does not require witnesses to the ceremony, nor are any required to sign the certificate. Only the officiant is required to sign the certificate.
What should we do when we pick up our license?
When you pick up your license, check it carefully to assure the information is correct. Also pick up a self-addressed envelope for that clerk's office; that way I can quickly mail the completed license back to the clerk.
You should also ask how that town or city gives you certified copies. Most will give you an order form (there is a small fee) to return after the wedding. You will need certified copies (with a raised seal) for some purposes, such as Social Security and passport changes. Photocopies are acceptable for most other purposes, but do call agencies to be certain.
Timesaver: If you wish, you may drop off or mail your license to me (or bring to the rehearsal) and have one less bit of paperwork to handle on your wedding day. I need to have it any time before the ceremony.
What do I do if I'm changing my name?
There is a space on the license "SURNAME AFTER MARRIAGE." Putting a new name here will automatically legally change your surname only (last name) once the license is returned and recorded. Be sure to notify government and financial institutions and change any legal documents, identification, insurance, memberships, etc.
How do we get a copy of our marriage certificate?
Once you've "tied the knot," I'll fill in my section of the license and mail it back to the town or city office where you obtained it. Your marriage license becomes your marriage certificate once it is completed by me and recorded.
You may then get your certified copies: as stated above, get an order form when you pick up your license, or call the week following the wedding and pick up copies in person.
Details, Details...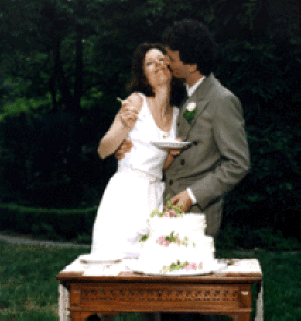 What is your fee?
Please see Services and Fees.
How long is a typical ceremony?
I have officiated at ceremonies ranging from an informal two minutes in the home garden to a one-hour vow renewal (lots of sharing from the guests). That said, an average ceremony time is about 15 minutes.
What do you do on the day of the ceremony?
I arrive about 30 minutes early on the day of your wedding. I check in with you to see if there are any last-minute changes and to obtain the license, which I need before the proceedings. I also check in with the musicians and, if possible, with the venue coordinator or wedding planner, as well as those who are doing readings to make sure they know their cues and have their materials. I may set up altar items if needed. Then we'll share our warm and inspiring ceremony!
Do you stay for the reception?
Although some couples graciously invite me to join them for the reception, family obligations usually prevent me from doing so. Also, I am mindful of people's budgets and don't expect an invitation. But neither do I like to dash off immediately after the ceremony, so a brief stay to chat with guests and wish you well feels comfortable to me and I hope to you also.