---

Touch·stone (n.)
A hard black stone formerly used to test the quality of gold or silver by comparing the streak left on the stone by one of these metals with that of a standard alloy.
Any test or criterion by which the qualities of a thing are tried.
An excellent quality or example that is used to test the excellence or genuineness of others.
Ritual moves us – both emotionally and by transporting us from one state of
being to another.
An authentic ritual becomes a touchstone in the lives of the participants; it remains an example of our best choices and intentions, and our connection to each other.
In years to come
you will find yourselves and your
relationships tested.
Returning to the clarity of the
ritual can bring
you back to what is essential.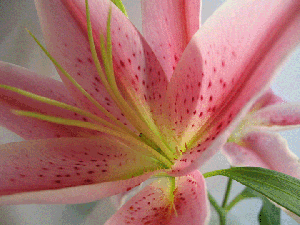 Susan Spector has been co-creating and officiating at weddings, vow renewals, baby blessings, housewarmings and seasonal celebrations for more than 25 years. Non-denominational and independent, she is a graduate of The New Seminary, New York, an accredited school for the instruction of interfaith ministers (see below: What is interfaith?).
From museums and estate gardens to backyards, beaches, chapels and more, Susan brings an ear for poetry and an eye for detail to her ceremony work.
While she enjoys combining, sharing and learning about all spiritual traditions, most of the ceremonies Susan is asked to create are not specifically religious, but rather draw upon nature, poetic or cultural sources and the lives of the participants.
Engaged couples find information and humor at the wedding ceremony class Susan teaches at the Cambridge Center for Adult Education. (Please see Classes & News for information about upcoming classes).

The motto of the New Seminary is "Never instead of, always in addition to" meaning that rather than dividing people into separate beliefs, each path adds to human wisdom and experience. Students of any faith or of no specific faith come together to learn and to inspire each other.
As we consciously choose to celebrate perceived differences, we are united in our humanity. Interfaith holds that mutual respect and understanding among the world's traditions encourage world peace.